When watching "Mr. Harrigan's Phone," an image comes to mind of a secret cabal of horror writers, meeting in their private horror clubs, collectively raising their glasses and cursing the gosh-darned day that cellular phones were invented.
Cell phones, especially the "smart" ones, make many aspects of our lives more convenient. But for horror writers, they seem like a real pain in the rump. How do you strand someone in the middle of nowhere if they can call an Uber? How do you trap them in darkness if they always have a flashlight? How do you keep them ignorant of the plot when they can look up useful facts about demonology in an instant?
So many horror stories nowadays go out of their way to take phones out of the equation; take a drink whenever a character says they can't get reception, and finish it if, for no rational reason, someone dunks a phone in a punch bowl at a party. But some stories, like "Mr. Harrigan's Phone," make a concerted effort to turn the phones themselves into an agent of terror. And "Mr. Harrigan's Phone" does a better job than most.
Adapted from a novella from Stephen King, "Mr. Harrigan's Phone" stars Jaedan Martell ("It") as Craig, who was hired at a young age to read books to a reclusive billionaire, played by Donald Sutherland. Even though Craig earns an underwhelming $5 an hour from the old cheapskate, who gives him scratch-off lottery tickets for Christmas (ie usually nothing), he's developed a close relationship with Mr. Harrigan, whose wealth and tenacity translate — in the quiet parlor room where they meet — to grumpy, but sage-like wisdom.
The story takes place in the early 2000s, and the newly released iPhone is a status symbol at Craig's high school. His loving but clearly lonely father, played by Joe Tippett ("Mare of Easttown"), buys him one of the smartphones for Christmas, the same year one of Harrigan's lottery tickets finally pays off. Craig decides to buy Mr. Harrigan a phone as well, so they can stay in touch outside of their meetings, and Harrigan begrudgingly accepts the gift when he realizes he can use it for money-type things like checking the stock market in real time and reading the Wall Street Journal.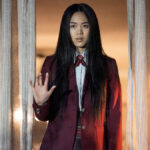 When Mr. Harrigan passes away, uneventfully and after a long life, Craig mourns his passing and tucks his mentor's phone in his pocket at the funeral. He even sends the dead man a message to say goodbye. And he's genuinely freaked out when Mr. Harrigan, buried six feet under with only a cell phone for company, texts him back.
After confirming that Mr. Harrigan really is dead, Craig starts looking at his phone with the same worry and fear that Mr. Harrigan initially did. The old man predicted that easy access to free information, which formerly had financial value, would lead to economic instability and the manipulation of the masses, but Harrigan became addicted to his phone anyway, and Craig can't seem to bring himself to get rid of it, either. Harrigan's messages aren't intelligible, but they're both a connection to his past and, as Craig discovers after bad things happen to his school bully, a means to easily solve problems which shouldn't easily be solved.
Written and directed by John Lee Hancock ("The Little Things"), "Mr. Harrigan's Phone" resists the urge to delve deeply into the mechanics of using modern technology to speak to ghosts. This isn't "The Dead Talk Back" or "White Noise"; it's a rather depressing allegory for our innate refusal to give up things that are convenient but bad for us, whether that's a troublesome cellular phone or a troubling pattern of behavior.
As such, Hancock uses admirable restraint in refusing to transform "Mr. Harrigan's Phone" into a popcorn-spilling shocker. The scares are more intimate and personal, a sense of deeply unpleasant perpetual dread that comes from living with oneself after doing something wrong. No matter what Craig does, where he goes, or how he changes his life, he knows he can always turn to Mr. Harrigan for assistance. It's like having a professional hitman on speed dial: the temptation to give them a ring is bound to come up someday, and when it does, that choice may define you.
Hancock's film may be mild by modern horror standards but it's fitting and enveloping. The score by Javier Navarrete ("Antlers") provides subtle but satisfying inflections, guiding us through Craig's life story when it's a coming-of-age tale and when it's a tale of terror, nimbly easing us through each transition between the two. The editing by Robert Frazen ("I'm Thinking of Ending Things") subtly calls attention to minor moments with heavy porter, gliding the story along. "Mr. Harrigan's Phone" never feels rushed, never feels long; it's the third bowl of porridge from start to finish.
It may not provide the rush of adrenaline that many people seek from their horror movies but "Mr. Harrigan's Phone" is a smart and elegant piece of creepiness. The previous attempt to transform King's cell phone anxieties into a feature, Tod Williams's "Cell," felt contrived and desperate, but here the commentary is effective and mostly earned. It really is hard to turn down something that solves all your problems when all it asks in return is the tiniest slivers of your soul, every day, for the rest of your life.
"Mr. Harrigan's Phone" premieres on Netflix Oct. 5.