God of War Ragnarok is just around the corner for its final release. And it seems as if Sony is putting all of its efforts to sell the game as much as it can. Although most countries are already hyped for the game, Sony has a skew toward India.
WARNING
Article continues below this ad
With some latest pictures surfacing online, it seems that the console behemoth is making some creative advertisement choices to lure the Indian gaming community towards itself. Thus making it clear that they are leaving no sign of doubt for the customers in one of the fastest-growing gaming communities in the world.
WARNING
Article continues below this ad
God of War advertisement on the Mumbai metro
Mumbai is the commercial capital of India, which means that advertising a game like God of War is a mind-blowing business strategy. Recent images uploaded by professional Indian eSports gamer Sat Mayekar, Sony has now started advertising their upcoming exclusive for PlayStation, on one of the busiest metro systems of the world in Mumbai.
The posters for the game and stickers for the console can be seen stuck on the walls of the metro's body. It can even be found inside at the commercial display areas. It is also to be noted that according to the reports by Sat Mayekar, these advertisements are not limited to the metro only and were seen in many popular malls around the city.
This is also important to know that the Mumbai railway system is one of the busiest public transportation systems in the world. This means around 4 million people daily can see the advertisement while traveling through Mumbai Metro and 7.5 million people traveling through Mumbai suburban railways.
Why is it so important for Sony to have a fan base in India?
WARNING
Article continues below this ad
Apart from the fact that PlayStation 5 was the most-sold console in India in 2021, Sony has always been a close benefactor of the country for a very long time. But for the last few years, the sales of the company have fallen down a few places, leaving the company concerned about the sales of its gadgets in one of the fastest growing economies in the world.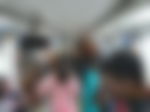 It is also to be mentioned that India is also the biggest competitor for mobile gaming in the world, and has a business model that earned the industry $930 million in 2021.
WARNING
Article continues below this ad
WATCH THIS STORY: The best PlayStation exclusives of all time!
Therefore, it seems that advertising in India a game like God of War isn't a bad idea after all.