Introduction
The Nikon Z 400mm f/4.5 VR S is a professional super-telephoto prime lens for Nikon Z-series full-frame mirrorless cameras.
It's described by Nikon as the the smallest and lightest 400mm lens that the company has ever created.
It features a complex optical structure comprised of 19 elements in 13 groups, including 1 ED element, 2 super-ED elements, 1 SR element, elements with Nano Crystal coat, and a fluorine-coated front lens element.
This lens has a 9 blade diaphragm which creates an attractive blur to the out-of-focus areas of the image.
It's equipped with an optical vibration reduction system that offers 5.5 stops of built-in stabilization and has a dust and drip resistant design.
An internal focusing mechanism means the lens barrel doesn't move, and it offers a minimum focusing distance of 2.5 m (8.21 ft) and a maximum magnification ratio of 0.16x, whilst using front screw-in 95mm filters.
There's a configurable ring on the lens barrel which allows you to control either aperture, exposure compensation or ISO speed.
This lens is also compatible with the Nikon Z 1.4x and 2x teleconverters, offering focal ranges of 560mm and 800mm respectively.
The Nikon Z 400mm f/4.5 VR S lens is available now priced at £3299 / $3299 in the UK and the US, respectively. It is designed in Japan and made in China.
Ease of Use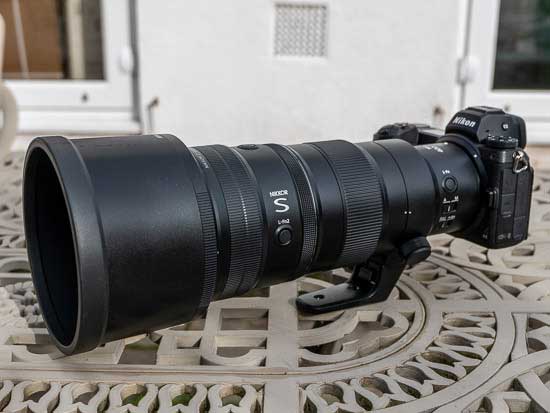 Weighing in at 1245g (2 lb 12 oz) with the supplied tripod collar fitted and measuring 23.5cm (9.3in.) in length, the Z 400mm f/4.5 VR S is quite a large and heavy lens.
Given the long focal length that's on offer, though, it's actually something of a technological accomplishment in terms of its overall size and weight, being more akin to a typical 70-200mm f/2.8 zoom lens.
It does feel rather unbalanced when using it with a smaller sized camera body like the Z6 II that Nikon provided for us to test it with, as shown in the product photos.
It would be much more at home mounted either on the larger Z9 camera with its integrated grip or with the MB-N11 battery grip fitted to the Z6/Z7 series cameras.
We were able to comfortably use it for several hours hand-held without having to use a tripod or monopod, which makes it a very versatile, lightweight, travel-friendly telephoto option.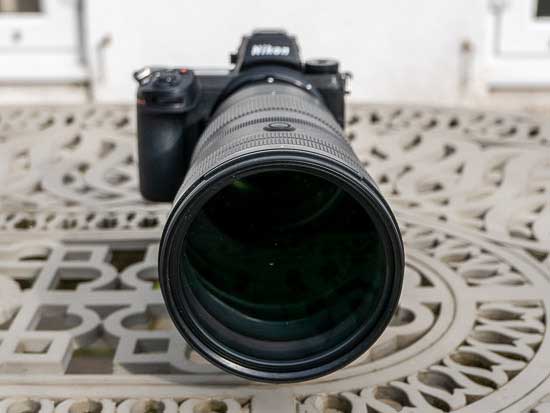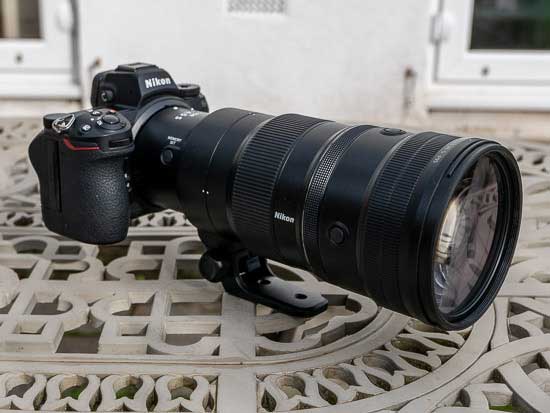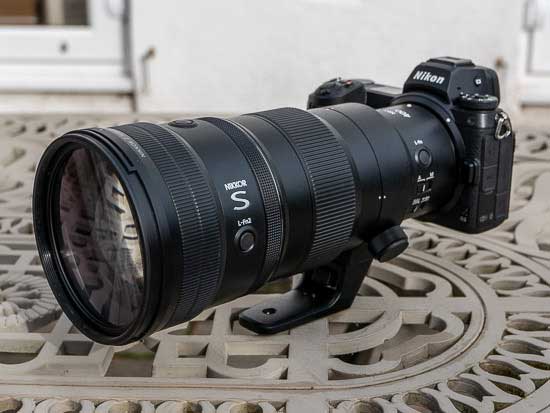 Build quality is outstanding for what is after all a professional-level lens. With a mostly metal construction, the Z 400mm f/4.5 VR S feels very solid in your hand, and it commendably has a metal mount. Note that this lens also has a weather-resistant design to help protect it against dust and moisture.
There are three switches on the left hand side of the Z 400mm f/4.5 VR S lens.
The top one is the first of two L-Fn customizable function buttons. In the main camera menu, you can assign one of 21 different functions to this button, including AF lock, metering, subject tracking, framing grid display and so on.
The middle one is a switch for choosing between auto-focusing and manual focusing.
The bottom one is a focus range limiter switch with two settings, Full (Infinity-2.5m) and Infinity-6m.
On the right hand side is the memory-set button, which you can use to save the current focus distance.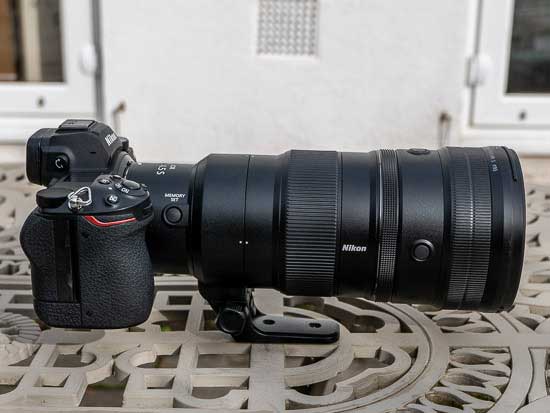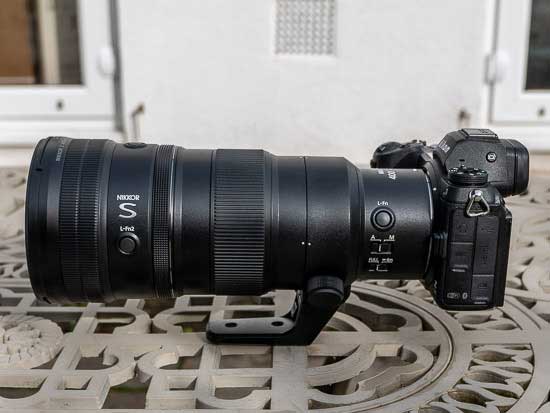 The built-in 5.5 stops of image stabilization are important when hand-holding such a long lens, and the system thankfully works very well, ensuring that you can shoot at slower shutter speeds than 1/400th and still get sharp results (obviously depending on your technique).
When used with the Z9 camera, Synchro VR combines the in-lens and in-camera VR systems for up to 6.0 stops of compensation.
Note that there is no external control on the lens for turning image stabilization on or off, which means that you have to dip into the camera's menu system.
Sadly there is no OLED data display on the lens barrel, either, as featured on some of Nikon's other Z-series lenses.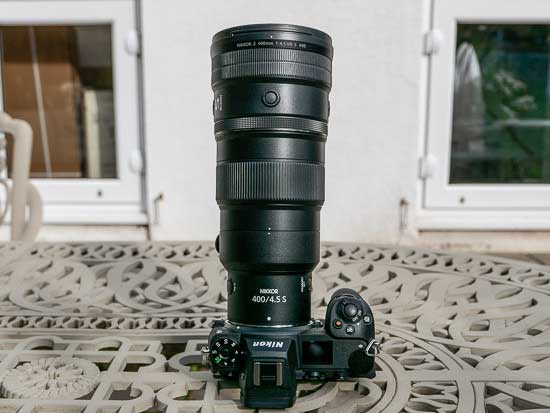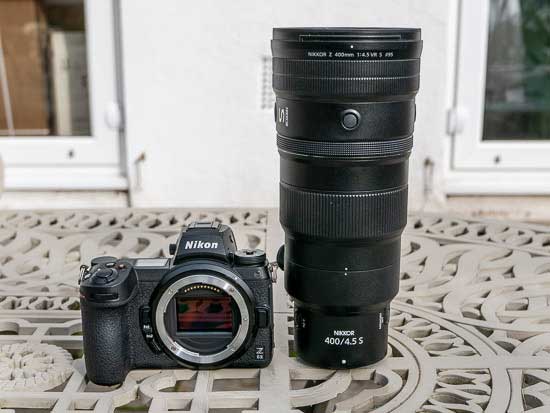 There is another function button marked L-Fn2 located towards the end of the lens barrel which can also be customized.
There are a further three unmarked buttons on the same ring which will duplicate whichever setting you assign to the L-Fn2 button, ensuring that you can always access one of the buttons no matter how you're holding the lens.
Towards the lens mount end of the Nikon Z 400mm f/4.5 VR S lens, there's the first (and smallest) of the lens' two rings. This lens can be customized, too.
By default it is set to control aperture, but you can also change it to adjust exposure compensation or ISO. Alternatively you can have it set to do nothing at all.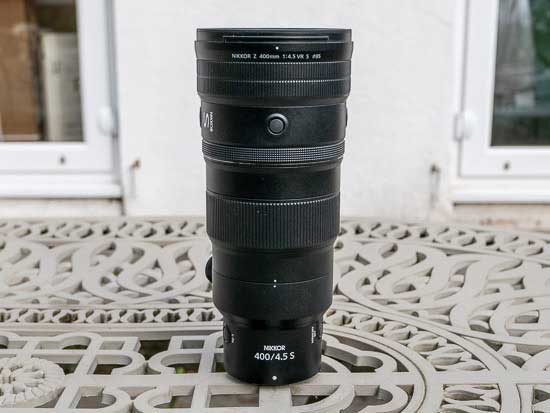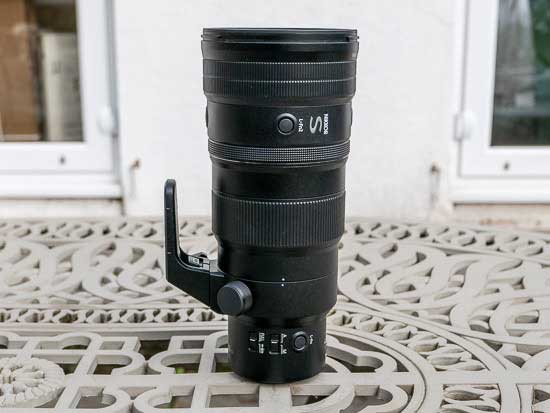 At the center of the lens, you'll find the focusing ring. It has no hard stops at either end of the focusing ring, which makes it more difficult to focus on infinity.
The ring has just enough resistance to make fine adjustments to manual focusing, without having too much give.
The focusing ring is ridged and the control ring is knurled, helping you differentiate between them by touch when shooting through the viewfinder.
Right at the end of the lens barrel is an anti-slip rubber grip for more stable handheld use.
This also helps to add to the high-quality and sturdy feel of the Nikon Z 400mm f/4.5 VR S lens.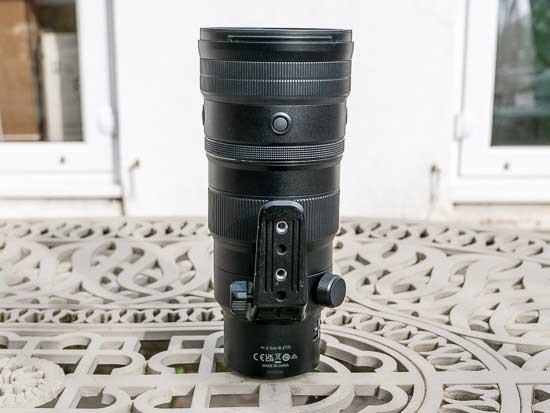 This lens has been designed to be as quick and quiet as possible when autofocusing. That makes it ideally placed for both stills shooting and video.
Shooting with the lens proves it to have almost unerringly accurate and rapid autofocus in the majority of situations, with barely any hunting at all. It's also impressively quiet, too.
A removable tripod collar is included, towards the lens mount end of the lens.
You can position it anywhere you like around the Z 400mm f/4.5 VR S lens, allowing you to attach the camera to your tripod or monopod in whatever position you need it.
A removable foot is also included, which has two different tripod attachment threads (one at the front, one at the back).
You can use the dots on the tripod collar to match up with the lines on the lens itself to perfectly align it, too.
Also included in the box is a large lens hood (HB-105), which fits onto the Nikon Z 400mm f/4.5 VR S' 95mm filter thread, and a lens case (CL-C5).
The hood locks into place and is reversible so you can reduce the size of the lens for transporting it and storing it at a smaller size.
Focal Range
The Nikon Z 400mm f/4.5 VR S provides an angle of view of 6° 10′.
Chromatic Aberrations
Chromatic aberrations, typically seen as blue or purple fringes along contrasty edges, were not especially apparent in our test shots, only appearing in very high contrast areas.
Vignetting
With the Nikon Z 400mm f/4.5 VR S lens set to its maximum aperture, there is some light fall-off in the corners, which you'll need to correct in post-processing.
Distortion
There's some very mild pin-cushion distortion in both the JPEG and Raw files, but it's not at all pronounced.
Macro
The Nikon Z 400mm f/4.5 VR S is not a macro lens, offering a minimum focusing distance of 2.5 m / 8.21 ft combined with a maximum magnification of 0.16x.
bokeh
Bokeh is a word used for the out-of-focus areas of a photograph, and is usually described in qualitative terms, such as smooth / creamy / harsh etc.
In the Z 400mm f/4.5 VR S lens, Nikon have employed an iris diaphragm with 9 rounded blades, which combined with the maximum f/4.5 aperture and long focal length results in very nice bokeh in our view.
We do realize, however, that bokeh evaluation is subjective, so we've included lots of examples below for your perusal.

Sharpness
In order to show you how sharp the Nikon Z 400mm f/4.5 VR S lens is, we are providing 100% crops on the following page.