Chinese website Chongdiantou has tested a variety of Apple power adapters with the iPhone 14 and the iPhone 14 Pro Max, providing useful data about charging speeds and revealing which charger is the most valuable for fast charging.

The short answer is to choose Apple's 30W USB-C power adapter, which at $39 is the company's lowest-priced charger that can charge the iPhone 14 and iPhone 14 Pro Max at their maximum supported charging speeds of 25W and 27W, respectively. All other higher-priced Apple chargers, such as the new 35W adapter with dual USB-C ports for $59, charge the devices at equal to negligibly faster speeds at best.
The chart below is in Chinese, but it shows that all 29W or higher Apple adapters charged the iPhone 14 Pro Max at 26W to nearly 27W.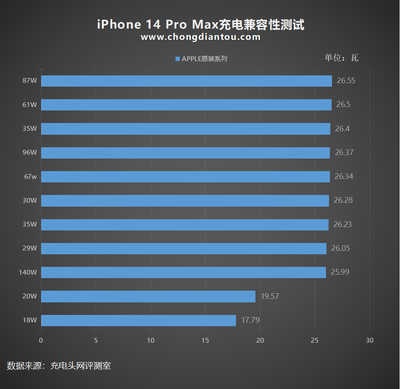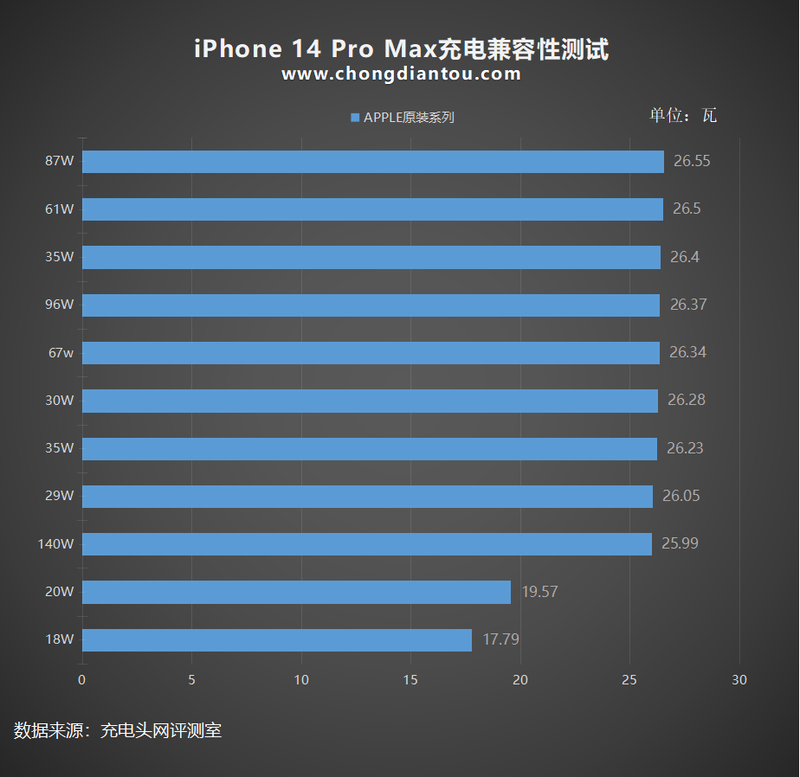 While charging speeds for the iPhone 14 Plus and iPhone 14 Pro remain to be seen, the 30W adapter should be the best choice for those devices too.
Interestingly, Chongdiantou found that the iPhone 14 Pro Max can briefly achieve peak charging speeds of nearly 29W with Apple's older 29W power adapter, which was designed for the 12-inch MacBook and discontinued in June 2018.
By comparison, the iPhone 13 and iPhone 13 Pro Max are capable of up to 23W and 27W charging speeds, respectively, according to Chongdiantou's sister website LoadLABso Lightning charging speeds for all iPhone 14 models are largely the same this year ahead of Apple's expected switch to USB-C for iPhone 15 models next year.
Apple no longer includes a charger in the box with any iPhones. For all four iPhone 14 models, the company says users can charge the devices to 50% in around 30 to 35 minutes with a supported 20W or higher power adapter.
Popular Stories
Apple Confirms iOS 16 Bug Impacting New Device Activation as iPhone 14 Orders Begin to Arrive
Apple has confirmed that customers activating new iPhones may encounter an issue where device activation during initial setup doesn't go through on Wi-Fi, saying the problem is "under investigation." In a memo seen by MacRumors, Apple says that "there is a known issue for iOS 16 that may impact device activations on open Wi-Fi networks." To resolve the issue, Apple says customers should…
Apollo App Adds 'Pixel Pals' to the iPhone 14 Pro Dynamic Island
Popular Reddit app Apollo was today updated with support for the iPhone 14 Pro and Pro Max, and Apollo developer Christian Selig decided to implement a fun little feature — a "tamagotchi" for the Dynamic Island. The app update adds a small little creature into the area above the Dynamic Island on the new iPhone models. It can be customized into a cat, dog, hedgehog, fox, or axolotl, and the …
16 Hidden iOS 16 Features You Didn't Know About
Apple this week released iOS 16, the latest version of iOS with a new customizable Lock Screen, major new additions to Messages, and enhancements to Mail, Maps, and more. Other than the headlining features, there are a number of quality-of-life changes, improvements, and new capabilities baked into iOS 16 that help improve the iPhone experience. We've listed 16 hidden features and changes…
Getting the iPhone 14 Pro? Five Major Features to Check Out First
The iPhone 14 Pro and iPhone 14 Pro Max officially begin arriving to customers on Friday. Apple's latest high-end phones sport major new features, changes, and design updates that make them an attractive choice for customers still using older models. If you're getting a new iPhone 14 Pro or iPhone 14 Pro Max tomorrow, you may be slightly overwhelmed or simply interested in what new…
iOS 16 Causing Battery Drain? Three Possible Reasons Why and How to Fix
If you updated to iOS 16 this week, you might notice your iPhone's battery draining faster than you remember before you got Apple's latest update. While you may be quick to point a finger at the update itself as the culprit, there are several reasons why you may notice your battery draining a bit faster in the days after the update. We've listed some reasons below and how you can address…
iOS 16.1 Adds Battery Percentage to iPhone 13 Mini, iPhone 12 Mini, iPhone XR, and iPhone 11 Status Bar
Apple in iOS 16 updated the battery icon on iPhones with Face ID to display the specific battery percentage rather than just a visual representation of battery level. At launch, this feature did not include the iPhone 13 mini, iPhone 12 mini, iPhone XR, or iPhone 11, but according to multiple reports from the MacRumors forums and Twitter, all of these iPhones now support the feature….
Apple Promotes Benefits of Using iPhone 14 With eSIM While Traveling Abroad
Amid criticism from some customers regarding the removal of the SIM card tray on all iPhone 14 models sold in the United States, Apple today published a new support document outlining various "options and benefits" for using eSIMs while traveling abroad. Apple says an eSIM is more secure than a physical SIM since it cannot be removed from an iPhone that is lost or stolen. Apple also says…
Apple Repeatedly Showing iPhone 14 Pro Design With No Dynamic Island
Apple is repeatedly depicting the iPhone 14 Pro's rumored "pill and hole-punch" display cutout design with no Dynamic Island, despite this not being an option on the device. Apple Support document showing the rumored "pill and hole-punch" cutout design. In a new support document titled "Use Always-On display with your iPhone 14 Pro or iPhone 14 Pro Max" that was published yesterday, Apple…